The cable tester can quickly and easily check 10 and 16 pin flat ribbon cables for proper functioning.

The to be tested ribbon cable is plugged into the corresponding socket connector. By pressing the TEST button, the cable is checked for correct connection and the measurement is indicated via LEDs.


Each wire (1-10 or 1-16) is assigned an LED and it is tested separately. If the IN to OUT connection is okay the associated LED is lit, is the wire disrupt the LED is not lit. If the wires do have a short circuit the affected LEDs only glow at half power.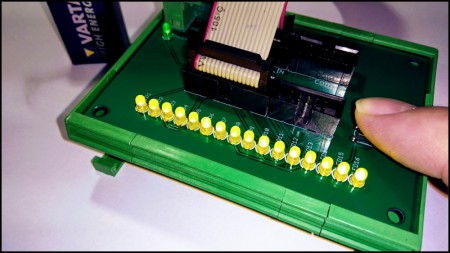 With the CABLE-Tester above mentioned cables can be tested for correct electrical connections, disruptions and short circuits.
Manual CABLE-Tester
Please place your order via the WebShop
Please send us your inquiry via E-Mail form